Secrets Of A Green Man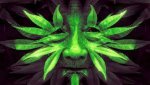 Mon, 06 Feb 2023
2 likes
Through soil wherever you
need to go, slight curious
impressions advance; roots
emanating emotive kinship
for descendants of forest
floor.
Green man's new shoots
are the blood vessels of
life in spring, they sprout
from pores; his eyes are
gateway to nature's soul,
scanning dense forest
trees; a token for good
health.
No human voices heard,
just language of birdsong
and orchestra of summer's
rustling leaves;
accessible way of passage
for untamed creatures –
where wild man's spirit
absorbs rain, he swims in
swirls of early morning
mist...reassured but alert,
camouflage conceals his
gaze; mimicking leaves
of green, he's part of
majestic nobility –
enchanting valiant
essence unseen.
Free to use image.