In The Stillness Of Late Years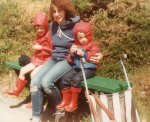 Mon, 07 Jun 2021
Dear diary...a poem remembering
day trip along coastal path while on a
single parent holiday retreat in Devon.
June 1985.
Struck by father time, as clock ticks without hesitation,
this pleasant sunny afternoon with just photos to guide;
it's been harmonious drifting back, recalling in mind
footprints treading those creative trails, accompanied
by gathering folk whose roots resembled mine, inviting
myriad of memories meandering; so beguiling were those
rays, they feel like illusions these days.
Sensing distant impressions, now I'm out of sync; like
my two little companions who have moved on and aged,
when young we were like spiders threading natural
pleasures,shimmering brightly with whispers of impulsiveness,
there were no muffled calls from flecked conch shells;
only imagination hearing sweet song of ocean's voice
drifting across rolling tides, telling me of tranquility
once traced in calm surroundings, now definitely
worthwhile grasping with playful attention, recalling
combing beaches...finding all kinds of thingamajigs,
that would appear curiously like brief mysteries of
wonderment, yet sometimes yielding the familiar.
Those mind twirling worlds of yesterday mingling
like a tornado, I gather them up, attempting to frame
collective faces no longer cloaked in shadows; some
drip like wax into the here and now, their flame burning
ever brighter...as I recall, though some of those young
resemble tumbleweed scattering in the cacophony of
barren – unfamiliar locations that get confused, each
one pursuing my mind's eye, in the stillness of late years.
Photo's my own.