Leaving Home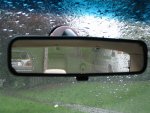 Tue, 17 Aug 2021
1 likes
Rain falls as drizzle – recalcitrant, obstinate,
framing a doorway filled by fretful parents,
staring into a no man's land of sadness,
one last, lingering look back then
an overflowing car boot clunks shut.
Engine fires, a watershed journey begins,
asphalt roads intersect urban jungles,
silent witnesses of the end of childhood,
bystanders at midnight, counterfeit glass slippers
shoe horned onto the feet of purgatory.
I glance reflectively in the rear view mirror
and see many faces from my past,
ghosts of grandparents and uncles,
now formed of stardust and memories,
kith and kin – an ancestral bloodline of yesteryear.
I remember all of the good times,
epiphanies to counter daily stoicism,
intermittent family struggle and strife,
revering those occasions of happiness and hope,
Christmas souls lit by fairy lights on trees.
A hinterland of cross-city grey ends,
an empty house filled with promise awaits.
I look ahead to an unwritten future where
fault lines of free will and fate meet,
brush strokes on the canvas of life.
Image free to use at WikiCommons https://commons.wikimedia.org/wiki/File:Rear-view_mirror.jpg