Wintered Thin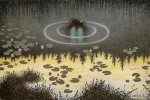 Wed, 27 Oct 2021
1 likes
Poem four of four dark poems for October. 
 
At first, it was the fog
that grew upon us
as a shroud so gently
that it was unremarked.
Not a gāst, but still worse,
formed in the mere, 
snapped at the heels 
of children, found us 
in our beds. The water
coursed to flōd, surged 
over stones until they sang
of her, and her vengeance - 
the way it hammers out
a monster like a blacksmith
in his forge, and here, at last,
we felt
the teeth of history, ea to brim, 
when the salmon leaps run,
and the night bird cries fly,
we wintered thin,
blood thickened,
frightened of ourselves. 
 
(In Old English: gāst - spirit, flōd - flood, ea - river, brim - sea)
Image is from here: https://tinyurl.com/xvs6r7s5 It's a nøkken or nicor in Old English.