A Secret Garden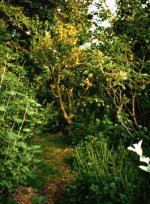 Wed, 24 Nov 2021
1 likes
Audio version at https://soundcloud.com/user-62051685/a-secret-garden-mp3
A Secret Garden
Sinking sun creeping lower, stalking horizons,
rays of light fading, pale moon lies in wait,
hopping out of bed, she ever so gently landed
on worn lino and bounced, almost soundlessly.
The little girl shuffled, crept along on tiptoes
as a great, grandfather clock chimed loudly,
stairs had Egyptian-style, patterned carpet,
watching her move, her motion; silent, effortless.
Through a locked and guarded backdoor,
where a dog snored, feet twitching in dream,
out onto grass, silhouetted trees and gravel path,
a furtive journey to an overgrown, brick wall.
On the other side was fate, her fortune,
her future cast in the shadow of her present,
a mere turn of the key and a gentle push
would finally assuage so many imaginings.
And as the egress of wood swung inward,
the child could hear the fluttering of wings,
a land away from the mundanity of life,
eternity trapped in the whorls of infinity.
Before she could finally cross the threshold,
a sleepy father wordlessly closed a story book,
his precious daughter at last asleep, once more
and a fantasy held captive within pages again.
Image free to use via WikiCommons at https://en.wikipedia.org/wiki/Gardening#/media/File:Forestgarden2.jpg