St Audrey's Bay Waterfall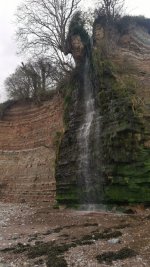 Fri, 15 Jul 2022
1 likes
Audio version at https://soundcloud.com/user-62051685/st-audreys-bay-waterfall-mp3
St Audrey's Bay Waterfall
Blue skies harbour cumulous clouds,
water trails alongside a coastal path,
green railings, boundaries, meander to
archaic, rusting stairs above a beach.
Flat shelves of rocks shuffle
like playing cards dealt on baize,
outcrops of sedimentary, obsidian shale,
rock pools, saltwater and seaweed.
Dogs roam through pebbles and boulders,
bleached sand lying prostate beneath,
children forage for hidden fossils,
imprinted, preserved ammonites.
Water cascades to Earth from above,
falling in torrents down a cliff face,
trees perched atop, green thorns,
trunk split asunder by white lightning.
Millennia recorded in striated whispers,
geology forged over untold eons,
so many of our lifetimes witnessed,
sentinel of beatific sound undiminished.
*Image is my own
**Video of waterfall at link below. Location is in Somerset near Watchet
https://www.facebook.com/100000978754683/videos/a.7436982459677639/49516...