Does it Rain in Heaven?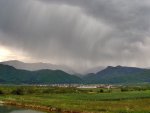 Tue, 23 Aug 2022
2 likes
Watching someone close to you leave
Audio version at: https://soundcloud.com/user-62051685/does-it-rain-in-heaven-mp3
Does it rain in Heaven?
Night comes wearing its cloak
of sable skies and constellations,
moonbeams filter through glass,
casting silhouettes in stillness.
I watch your quiet breathing
and reminisce in the shadows,
dreams of crows in dank mist
lined on archaic tree branches.
A nightscape of milk-lid blinks,
ferrymen for transient souls,
a moribund journey of sorts,
figurative train, final station.
Your faith keeps you strong,
choral strains beckon believers,
matriarchal heart of a lion,
the kindness of strangers.
Midnight silence broken by
water rolling down panes,
metaphors of life and death
held captive in stories over time.
What lies beyond that last breath?
A place just past blinding light,
somewhere we all meet again
or an eternal void of darkness?
Does it rain in Heaven?
Image free to use at https://commons.wikimedia.org/wiki/File:Selo_Kostenets_rain.jpg