Goatie 9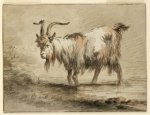 Thu, 22 Jun 2023
2 likes
Prison bent even young bodies like Harry the Hatchet into a slow shuffle. But everything was done double-paced with the jail-head on. Aching for something new like a young boy kicking the ball, and stopping the waiting game. Always a queue ahead of us.  We waited with a Bakelite tray in our hands for breakfast. 
'Whit yeh dae was him?' Harry asked.
'Who?'
'Don't come the cunt,' he replied.
A faceless voice ahead of us roared, but we ignored the ruckus.
'Vic,' hissed Harry. He chewed the nailbed on his thumb and talks out of the side of his mouth. Prison lingo. 'He was pronounced deid in his cell at 3am. Noo his body has went missin. Whit did yeh dae wae it?'  
I said under my breath, 'I didnae dae anythin'.
Tonka elbowed his way in beside us in the queue. He showed me a row of nictoined teeth. 'Great  stuff, but whit did yeh dae with the auld cunt's body?'
Vic and Tonka had the kind of understanding the United States had with the USSR, but with non-nuclear capability. A man can get used to anything but prison, unless you're really sick. Tonka was called Tonka because he was built like a Tonka truck. He made Harry look small.
His speciality was torturing the rapists and paedoes. He'd a gang of followers, but he liked to do hands-on work. The wardens often turned a blind-eye, and went deaf and dumb. There was talk of them being on the take. But that wasn't Tonka. He'd no more brains than the crow that had somehow got into the dining area. It was going at the cawing full throttle as the men below cheered. Wardens armed themselves with mops, and whatever came to hand, trying to move it on. No window was open. I wondered how it'd gotten inside, or where they'd move it too.
With the distraction, the kitchen staff lost count, perhaps intentionally. Some cons were trying to paw extra food. I started to lose hope of getting anything from the hotplates and wondered if we'd get breakfast.
When it was my turn to get served only a dollop of cold porridge and powdered scramble egg that could have bounced like a yellow rubber ball was shuttled onto my tray. Take it or leave it were the only options. Move on.
Thinking back to better times when I'd a ciggy with my uneaten toast and cornflakes made me want to bang my head against the prison walls. Being a criminal was depressing, especially when I'd committed no crime. I thought about putting myself on medication like almost everybody else, to take the edge off the day. The problem was it fucked with my brain. It let the goat man in.
Tonka wandered away to sit with some of his followers. Harry squeezed in beside me. We faced each other over the table. He hunched his shoulders, his head angled over the plate to talk. 'So,' he said.
I took a fork to the grub and let it drop. Making a face. I couldn't eat it. The tea was cold, but I sipped at it, forcing it down.
'I don't know whit happened to Vic,' I spoke robotically. 'And I don't know whit happened to his body.'
The younger guy beside me was listening. Harry gave him the eye, until the lad's thigh started vibrating. I shifted away from him. If he was going to spontaneously combust, I didn't want to be caught in the after draught. But he bounced out of his seat and hurried away.
I picked a cold sausage from his plate and chewed on the cold viscous meat, before spitting most of it out and washing it down with more cold tea.
'He need taught a lesson,' said Harry, watching him go.
'Och, no, he's awright. He didnae mean anythin.'
Harry sneered.  'The cunt's a grass.'
'Well, he'll huv nothin tae tell anybody,' I reassured him. 'But whit happened tae Vic?'
'Priceless. Tell me whit happened. An I'll tell you.'
I smiled like a man chewing shitty cold sausage. While trying to think of something to placate him. 'Yeh still playing that World Cup thing?'
'Aye, an Full Metal Jacket. We get tae shoot soldiers and cops, but unfortunately, when yeh turn the game back on they've got mair than nine lives, the cunts.'
I tugged at my earlobe. 'Like Vic?'
'Aye, like Vic. It was like the same old tune. I know he warned yeh aff. But I wisnae sure yeh could dae it. Or come through wae it. But then the commotion started. Yeh must huv heard it?'
He stared across at me. I looked back at him calmly. He was first to look away.
'Well, yeh must have been daeing that goaty hing. We aw heard the whispering. I thought it wiz jist me. In my heid. An I was goin crazy. But it was everybody else tae. Then Vic. Fuckin hell.  By the time they'd got to im, he was deid. Yeh know how that goes?'
I nodded. 'Aye.'
'They'd the nurse, the doctor, the wardens, the acting governor, the whole kebab.'
I thought he meant shishkebab, but didn't correct him.
'Then we'd aw the doors banging open and shut. I couldnae even play my shitey Ninetendo thing. Then…'
I waited to hear what happened next. 'Then whit?' 
He put some oomph into it. 'Then the body disappeared. The doctor. The nurse. The wardens aw kicking up fuck. Opening up aw the cell doors. Dragging folk oot their beds.' He peered at me. 'Yeh no mind that? Them coming into yer cell?'
'Aye,' I tried to make it sound convincing, but he wasn't really listening.
He checked nobody else could hear us and whispered, 'Wiz it the goats that took his body?'
I put my finger to my lips, as if to shoosh him.
He winked to reassure me that he wasn't like the other guy, a grass, when I nodded. But I'd no more of a clue than him.