Whispers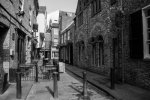 Mon, 30 Mar 2020
1 likes
There was a whisper on the air, coming, I thought, from the light rain gently kissing the pavement.  You can hear that sort of thing now. 
    Mind you, this city is built on whispers.  The echoes of ancient footsteps track newcomers, and bricks in narrow streets murmur of times older than themselves.  It's built on centuries of voices, movements and emotions. And now it is silent.
    I stood, alone, on one of the bridges, watching the river.  Even the water, fast flowing as ever, kept its secrets to itself.
    'Strange times.'
    I eyed the newcomer warily.  In the silence, I hadn't heard him approach. 
    He was standing the regulation distance away, leaning against the bridge.  Tall, maybe late thirties or early forties, dark hair sparkling slightly in the rain.  Jeans and a loose jacket.  Nothing remarkable.  I gave him a non-committal smile.  Nowadays, you don't encourage even the most casual intimacy with a stranger.  But old habits die hard, and to ignore him totally would have felt rude.
    I was, though, a woman alone on the bridge, with a bag of precious shopping, unlikely to be able to stop him if he wanted to take it from me.
    He raised his hands, palm outwards, in an old gesture:  I don't mean any harm.
    'I wonder,' he said, 'how long it is since we've heard birdsong in the city in the middle of the day.'
    I listened, and in spite of myself, I smiled.  'I didn't even know we had birds in the middle of the city.'
    He smiled back, acknowledging the half joke.  'I suppose that's something we've gained, in the middle of all this.'
    'I'm not sure it makes up for the rest.'
    He looked at the shopping bag, and I tensed.  'I'd offer to give you a hand carrying it' he said, 'but apart from the risk of contamination, you'd probably think I was going to run off with it.'
    And I felt embarrassed, although fear of both is perfectly reasonable, these days.
    'How quickly we adapt,' he said quietly.  'We always do.  The unthinkable becomes the everyday.'
    I looked around the empty bridge, and the street beyond.  'I don't think I'll ever adapt to this.'  I pointed towards a corner a few yards away.  'A busking band quite often plays there, they always draw a crowd.  Or there's sometimes a chap with an absolutely rubbish puppet he makes dance to old-style rock and roll.  My Big Issue seller always stands on the next corner, but I haven't seen her for nearly a month, and I don't know who to ask if she's OK.  And usually I'm really pissed off when I'm crossing this bridge, because I'm trying to get home in a hurry and it's clogged up with tourists taking bloody selfies.'  Something caught at my throat.  'A city is a living thing,' I said quietly.  'Or it should be.'
    He too looked round the bridge, and the empty street.  'Oh, this city's still alive,' he said.  'Can't you hear it?'
    'I don't just mean birdsong.'
    'Neither do I.  Listen.'
    I noticed that the rain had stopped, but the whispering was still there.  The sun emerged from thinning clouds, and I felt an early summer warmth. The bridge's stonework was less chill to the touch. 
    The whispers began to layer, interweave and blend, until first one and then another, and another, found their own distinct voices and detached themselves from the pattern.  With them came shapes made of air, forms that walked on the bridge and along the street, side by side, strangers briefly touching as they passed, unnoticing, careless.  I could hear music, and raucous street singing, and the soft metallic plip of a coin thrown into a box.  I could hear an argument, and a child giving its all to a tantrum, and 'Big Issue, please!  Hello, darling! Big Issue!'  
    The stranger stood, the regulation distance away, and smiled.
    'Stop it!'  I pressed my hands against my ears and shut my eyes.  'Stop it!  Don't show me ghosts!  It'll never be like that ever again.  We'll never be that sure, that innocent, ever again.  Why do you show me this?  Why do you want to remind me of the ghosts?'
    I felt the light rain on my face, and the damp chill against my skin, and the voices faded back to a whisper.
    I took my hands from my ears and opened my eyes.  He was still standing there but it was as if he too was fading, retreating from me. 
    'I know what we've lost!'  I shouted.  'Why did you have to show me what we've lost?'
    'Not only the past has ghosts,' he said.  'The city holds your hopes as well. It's all there, waiting.  If you believe in it.  If you work for it.'  A final smile.  'The unthinkable becoming the everyday, again.'
    When he'd gone, I stood for a few minutes longer, looking at the river, and listening to the whispers, wanting to believe.  I'm still working on that.
This is some of the entertainment that was in our local streets Christmas before last, and which seems a very long way away now.  I chose this clip because it has a really happy vibe, and also because I love the zombie Santa who apparently beamed down about forty seconds in:  https://www.youtube.com/watch?v=Zjxnnk7fbvg