Dragon Gate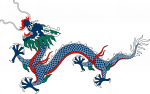 Mon, 17 Jul 2023
1 likes
Dragon Gate
They came during the spring
near banks of oriental ochre,
an amalgam of golden scales,
amassed; mighty Yellow River.
A brazen sun called to them,
            turn back
       it bellowed in haste
but torrents swallowed sound
as clouds whispered intrigue.
They fought a devilish current
goading travails downstream,
some relented, swam away
leaving a valiant intrepid few.
Gods heard quiet murmuring
of nature's elemental totems
and saw a waterfall looming,
journey's end, brave koi carp.
        This is not your lot,
               they said
casting arcane, divine spells,
liminal climb now higher still,
sanctity sated by piscine trials.
Over a hundred years passed
as fish turned around and left
until a last surviving traveller
finally made it to the summit.
Applause in Heaven rained
like snow from constellations,
such resolution rewarded by
a transformed golden dragon
immortalised
   forever
        at
           Dragon Gate.
*Poem based on an ancient folklore tale from China of a koi fish that makes it to the top of a waterfall and is rewarded by the Gods and made into a Golden Dragon. The waterfall became known as Dragon Gate.
Image free to use at: https://en.wikipedia.org/wiki/Chinese_dragon#/media/File:Chinese_dragon_...