Salamander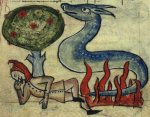 Tue, 25 Aug 2020
When it rained, you blamed me,
and when your cattle died or
the well gave up bad water - 
it was all my doing. So much so,
that now you do not speak my name,
fearing its mustard breath 
will flame a pouched poison and 
released, will fire and hiss if uttered.
But I have never been that mysterious.
Still, I speak in little clicks, undaunted,
mutter the meaning of each star 
upon my back, upon the worm of my body.
And I swim in the murk of aquatic dreams,
sinewy, watered beneath the smell
of pinewood warmed in the sun. Here,
you ask me to put out the blaze I started
and yet, I only know the cool of wet and stone.
I think of the soft, round of my eggs,
sticky as creamy mistletoe berries and,
what if I could change my skin,
regenerate the broken parts 
so that when, scales falling away,
I can reveal the white dove of my virtue,
and how then, maybe then,
you might again see the truth of me. 
Image is from wikimedia commons: https://commons.m.wikimedia.org/wiki/File:Salamander_in_fire.jpg