Fly Like An Eagle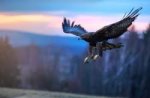 Sun, 24 Apr 2022
2 likes
Another Meditation:
I'm aware in realm of dreams
anything's possible: now deep
lucid connections with sky take
imagination where breathing
space is my own free will
transcending.
Flying independently, not
fraught with fear when
traveling to far off lands,
watching giant wings
appear,
soaring high eagle settles
on the breeze, I observe its
journey across mountain
peaks, with shrewd eyes
combing forest canopy,
freedom surging relaxed
state, till once more with
determined effort rhythm
of engaging beating wings
returns, then enduring energy
no longer leaves spirit weak.
I too feel that air carry me,
exploring high dangerous
ridges, hitching ride on ever
changing winds; if only in my
mind,
feeling time consume me, on
each breath the blood of life
flows through my veins, and
inner self is restored, clearing
way for fresh new dawns.
Pixabay free image.