Peace In The Forest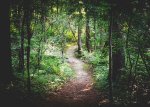 Wed, 02 Sep 2020
Tuesday 1st August 2020.
A walk in Savernake Forest.
Afternoon pleasures that merge,
wandering along snaking paths
where mystery and reality give
rise to imagined strangeness,
we two walked between still trees
silence resonating...hearing impaired,
no trembling leaves caught in breeze;
zephyr rippling away on faraway lake.
Forest was serene...windless calm as if
life had deceased, only sun remained
soothed by passing feathery clouds;
rays peered between clothed limbs,
along our trail blackberry beetles
were having trouble, so many lay
struggling on their backs in a tizzy;
too many casualties to aid or assist,
like drops of ink poured on oil glistening
rainbow jewels, some staggered giddily
similar to town drunk desperate for rest,
a sheltered place off the beaten track.
No deer stalked complex network of
undergrowth, tangled brambles twisting
between waves of ferns, various vegetation
all fighting for light in labyrinth of contortion,
It was as if we'd stepped into a still life
painting where forest was there, but we
were the only two left, apart from scurry
of those in a hurry to get home like us.
Pixabay free image.