Robin At Winter Solstice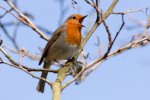 Mon, 13 Dec 2021
2 likes
Robin our treasured
winter greeter;
brings messages
whispered,
In holly and ivy garlands,
that silently bathe in blanket of snow.
Victorians understood
this friendly welcome;
melting hearts with eager glow,
robins of old with cheery red
bringing hope to one and all.
Bold nature with
human compassion,
though sedentary life
sets them free;
this bird brings aspiration
of optimism to each person
who believes creating gives energy.
When plunged into nighttime,
to those twinkling stars robin sings;
sensing magic in woods and forests
with the mystery that it brings,
remember on Winter Solstice
as sun approaches its rebirth,
robins are the ones who
bring peaceful spirit,
deserving early worms
from Mother Earth.
Pixabay free image.