Embracing New Year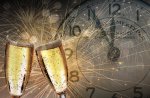 Fri, 31 Dec 2021
2 likes
New Year comes in swiftly
like cascading waterfall;
a trailing veil of pure energy
and beauty, gushing its way
down from hills on high,
reminding me of lively gatherings;
sipping sparkling champagne,
music radiating, laughter filling air;
dazzling well loved friendships,
atmosphere erupting in lively cheer.
River of gurgling pleasures,
bubbles pulsing in time;
raindrops splashing – till
excitement dissipates,
quietly turning to mist.
Through Thistle Down village
water ripples, essence touching
days with furrows that dip and rise;
where on village green folk smile
recalling New Year Eves of old,
when gatherings were many and
Auld Lang Syne rang out, to carry
through uncertain times, for that
there is no doubt.
Like river gently meanders;
life flows on in quiet calm, with
resolutions all sponged up;
absorbed, though not always long term.
Appearing in spring with sprinkling
of blossom, and a scattering of seeds
watered in with rain, new life is born
and New Year begins again.
Pixabay free image.