Lock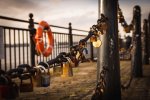 Thu, 04 Aug 2022
3 likes
Hello, visitor.
 You want to capture a remembrance? No problem.
Ah, well, the cost depends on how long you want to hold it for.
Twenty-five quid will get you one of those bronze padlocks. Our Grade 3. They're all right, but a stiff wind might get them loose. You do get the key with them, so when you get bored with holding that remembrance, you just turn the key, open the lock, and it will fly away, disappear, and never trouble you again.
Fifty quid gets you a silver one, our Grade 2 lock. Once you've whispered your remembrance into that, it will hold for a least a decade, maybe longer. We hold the key for the ten years, and then it's handed back to you, so you can unlock it and let the memory fly, or you can leave it there until eventually time and the elements do their work and it floats away without you even noticing.
A hundred quid, and now you're talking. The Gold. Our Grade 1. Nothing will shift that, not storm, not flood, not hail, fire or the end of the universe can break that lock. And we keep the key forever, so you can't let that one go. That one will stay, fixed, for the rest of your life, and you'll even have the privilege of passing it on, should you feel the need. Let those you'll leave behind put their ear to the lock and catch the whisper, and they'll carry it forever too.
For better or worse.
So, visitor. You want to capture a remembrance?
If you would like to hear this story read, it's here: Lock by Jane Ayrie (soundcloud.com)