Bus to Town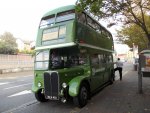 Thu, 12 Oct 2017
1 likes
All the children in the puddles.
All the shining of the leaves.
All the cups stacked up and waiting.
All the coppers, all the thieves.
All the lights up at the Cricket,
Metal giants, one and all.
All the pigeons at the bakers.
All the apples on the stall.
All the smokers on the pavement.
All the bikes on Pig Sty Hill.
All the raindrops in the gutter
and the coffees in the till.
All the trains across the Arches,
disappearing out of sight.
All the sleepers in the doorways,
bagged and hidden since last night.
All the traffic round the Centre.
All the flapping of the coats.
All the padlocks on the Pero
and the stillness of the boats.
All the people by the dockside,
all the footpaths, all the ways.
If you found me, would you love me,
all the ordinary days?