Flamingo Dreams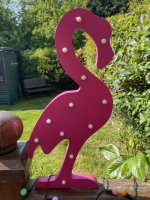 Sat, 09 May 2020
2 likes
And in other news. 
My book, Seven Nights at the Flamingo Hotel, which appeared here on AbcTales between October and December 2019 is to be published.
It will be my third book, over a twenty year period, with a third different publisher. 
When I was a kid one of my favourite books was We Didn't Mean to go to Sea. This is the 7th book in Swallows & Amazons series of books and in this one John, Susan, Titty and Roger accidentally go out to sea and get caught up in a wild adventure. 
This is how I feel about Flamingo Hotel. 
Years ago, when I did have an agent, she said to me, 'People like you don't get published'. Read into that what you will but I do remember a common theme for the rejections for Me and Mickie James (which was published finally, thanks to Dan Franklin at Cape who took a punt on it).
But the marketing departments at major publishers are right. Who wants to read quirky stories with gay characters in them?
I'm a niche within a niche. (See Isabel Waidner's brilliant interview here regarding intersectional  literature and liberating the canon.)
So in the last 10 years I have come to an accommodation. A happy one. 
Writing is a hobby. Just for me. A couple of hours every morning when I'm not at work (I work shifts so I'm quite often home in the morning). 
My publishing dreams were over. 
You know, those ones you have in your 30s, when you're walking across bridges and the wind's in your hair, and prizes are flying towards you, landing on your shoulders, another prize, are you sure?, and you are writing acceptance speeches in your head, sometimes gracious ones, where you thank people you've never even met, and God, who you don't believe in, or sometimes short, angry ones, verbal fuck yous to everyone you feel didn't support you, or who rejected you, didn't understand you. 
Etc. Etc. Etc. 
Actually these kind of speeches can be quite long. 
And end with equally long, and longer, alcoholic binges after which, at two o'clock in the morning, you ring the speaking clock and lambast it for time lost. 
But on it goes. 
The time will be….
Actually, this is the kind of person I am.
The kind of person who loved to secretly ring the speaking clock when he was a child. Sitting cross-legged on the floor of his father's office, in his Hong Kong Phooey pyjamas, while his parents were downstairs in the pub working. 
And to ring the BT bedtime story that played on a five minute loop and you were guaranteed to always catch it in the middle so you had to listen to the end before the beginning. 
We Didn't Mean to go to Sea?
Like my book. 
Listening to the launch of Fernando Sdrigotti's Jolts (Influx Press) he says that definitely he writes for an audience. Not The Ideal Reader but a reader, certainly. 
Otherwise, what's the point?
I've never had that confidence. Never believed, really, anyone would want to read me. 
Me and Mickie James I drunkenly emailed an agent about after, by chance, I'd sold some 50 word stories to an American coffee shop and had enough money to buy myself a computer. 
It had been sitting in a drawer for a year or more. 
Flamingo Hotel, I said consistently here on abc, I had no intention of sending off. But then, by chance, I saw on Twitter a new publisher setting up here in the East Midlands and so I thought why not?
(In the spirit of honesty I also sent it to 2 others, now withdrawn by me.)
Why not?
There's nothing to lose. 
And there wasn't. 
Because now Seven Nights at the Flamingo Hotel is to be published by Bearded Badger Publishing Company as their launch title.  
As Will, my partner, pointed out, my book title sounds like a hotel booking. 
I expect many misdirected Google requests. 
"I'd like a room with a balcony please. And a view of the flamingos."
This is what Bearded Badger had to say about Flamingo Hotel:
"What can you expect from Seven Nights… If Richard Brautigan had an illicit love child with William Burroughs which was then home schooled by Charles Bukowski you'd be on the right lines. It's a madcap adventure, funny, eye watering and everything in between."
Follow Bearded Badger on Twitter @beardedbadgerpc
Follow me on Twitter @drewgum
Read opening chapter of Seven Nights at the Flamingo Hotel here. 
 
Picture is author's own flamingo in own garden.