To a Lone Sailor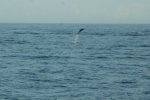 Fri, 22 Jan 2021
I split the plastic bag
and poured her into the sea.
A dazzling white cloud dissolved
into a final farewell.
We toasted her with whisky then,
recalled those times she plotted
her own wayward course, steered
the most southerly route.
She took her men part way –
dumped them in foreign ports.
Good-for-nothings I always said.
They tried to claim her as their own.
Yet every sailor knows the drill,
pulls hard on the kicking strap and jib.
Those unbearably lonely midnight hours  -
solemn walks along deck, prow to stern.
And while nothing prepares us
for the wildest storm - scurvy, hunger, regret –
there was always a double ration and a hearty façade.
Nothing went over the side.
Glistening clouds brightened her mornings.
Warm, pure currents twisted and turned.
Schools of porpoise danced in chopped-up seas,
soaring beyond the limits of her wildest ocean dreams.
So hold anchor in those sun-kissed groves.
May the beaches you are swept upon
sing sweet mysteries. May the azure
blue lagoons of your afterlife glisten.
The sea's spirit guides us all
towards the raising of a glass and a song.
Farewell, dear sailor - sail now,
sail steady, sail always, sail true.