Footsteps on Mars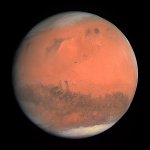 Tue, 27 Apr 2021
1 likes
In the dead of an iridescent moonlit night,
in an amphitheatre of curious crickets,
chirping in the rattling reed bush,
I am camped under a haven of canvas,
my torch a beacon, child's imagination alight.
My meandering mind is drifting, roaming,
prescient aboard a tin-can, space rocket,
hurtling past silent stars and cosmic dust,
meteors, flaring comets and sunlit photons
streaming a path towards a God of war.
Descending from a stratosphere, below endless ebony,
lucid dreams of cloudless atmosphere,
Phobos and Deimos cast solemn shadows across a stellar Sun
Moon-memories of millennia in solitude,
satellites at the edge of an iron oxide land.
Canyons of Valles Marines, east of Tharsis Bulge,
Borealis Basin, Martian, Polar ice caps, Olympus Mons
standing high above the plains of Amazonis Planitia,
a sweeping world of geological wonders,
a once thriving home to celestial ancestors from alien lore.
And as I turn another page, a further chapter
and ponder metaphors of life and planets,
a journey bound by the physics of nascence,
a joyous reverie sees me open a cargo bay door
and take those first, footsteps on Mars.
Image free to use at WikiCommons https://commons.wikimedia.org/wiki/File:OSIRIS_Mars_true_color.jpg