The Last Elephant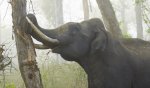 Wed, 12 May 2021
Forged in bucolic harmonies,
an interdependence born of millennia,
a symbiosis of flora and fauna,
when humanity lived as one,
in a world of unassumed co-existence.
Those halcyon days of innocence now forgotten,
causation and hunger justify an apocalypse,
as sprawling, burgeoning populations
mean concrete replaces trees and grass,
urban jungles of steel and glass.
Poachers steal keratin horns and living ivory,
finless sharks sink below weeping waves,
bourgeoisie tastes demand tiger lives,
magic and potions ground from bones,
ancient incantations cast from animal souls.
The caressing canvass of the Earth,
is ripped, burned and shredded,
Amazonian lungs reduced to ash.
A funeral pyre, a lament of indigenous tribes,
as one final, communal breath is exhaled.
Paymasters fund savannah game reserves,
selling hunting passes priced in blood,
as this terminus of time ticks to a final stand
for the lascivious safari etched in greed,
wordless victims become the hunted last elephant.
https://edition.cnn.com/2021/04/22/africa/zimbabwe-elephants-hunting-intl-hnk/index.html
https://www.bbc.co.uk/news/uk-56989711
Image free to use at https://commons.wikimedia.org/wiki/File:2010-kabini-tusker-bark.jpg