Thoughts Of An Oak Tree's Spirit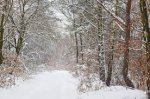 Tue, 16 Nov 2021
1 likes
When winter's grip is strong, heaviness upon
complex roots; crinkled cold though it maybe,
already knows landscape stirs.
This oak clearly transfixed in approach of
human contact, the muffled swirling breath;
apparitions of bitter chills,
hearing slight crunch through penetrating snow;
like me Raven greets white wisdom of purity,
standing silently watching flakes dancing in forest
from dawn to dusk.
On this slumbering unspoken repose; melted
contemplation those fleeting trails, still visions in
constant trance; aged knots and furrows against
slow fluctuations alter little by little, where insects
tickle powerful bark when air is warm, and daylight's
long.
Hear soothing pleasure...earth's pulse connecting with
days when rhythm of drumming slowly melts, bouncing
off supple branches – vanishing all too soon; laced
whimsical drops hang attentively between boughs,
weightless gossamer leftover from autumn's spinning.
When night time encloses; elusive black raven's never
afraid, this bird is healed by dreamy darkness that's the
trickster of minds, weaving its own web of obscurity
transcending from legends, as I too this fine oak play
my part in the grand scheme of folklore...where nature
has mutual respect.
Image by pixabay free to use.