A Company of Wolves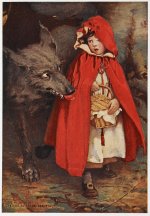 Wed, 22 Dec 2021
5 likes
Audio version at https://soundcloud.com/user-62051685/a-company-of-wolves-mp3
A company of Wolves
Orange-fire sun arcs lower,
twilight creeps in shadows,
pines hang heavy with snow,
bushes flash red with berries.
High castle straddles the horizon,
verdant green forest at its feet,
lone wolf howls from distant trees,
roe-deer blinks, turns and flees.
A little girl wearing red skips,
weaves through misty woods,
silent holly rustles, she brushes,
knocking apples from her basket.
Now she sees the log cabin,
hidden in its cavern of copse,
crumbling footprints form a path,
a winter robin sings close by.
As the door is gently knocked,
silence broken, faint echoes resound,
ingress of wood creaks opens,
old woman in rags bids welcome.
In the corner sits a yule tree
wearing tinsel, baubles as a coat,
and seated all around a table
are a company of wolves grinning.
She smiles, sits and
joins them.
Image free to use at https://en.wikipedia.org/wiki/Little_Red_Riding_Hood#/media/File:Little_...