Vernal Equinox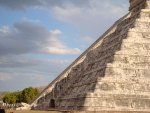 Tue, 16 Mar 2021
Winter shuffled its weary feet,
stoical snowdrops bowed ivory heads,
crocuses broke free from frozen earth,
as daffodils and tulips sprang into new life.
Light left its Antarctic station – South Pole,
crossed the Celestial Equator,
northward bound, subsolar now distant,
ascension east beckoning times of harvest.
With this watershed moment in time
comes mystical rituals of millennia past,
ancient prayers and spells of life cast
on seeds and crops and cattle, blessed.
Spirits dance in a Scandinavian disablot,
a giant snake slithers down a Chichen Itza pyramid,
Quetzalcoatl celebrated as a serpent's head,
worm moon risen signalling the onset of spring thaw.
The Devil eyes his twice yearly portal
to enter the world with an intent of torment,
this blue planet rotates on its eternal axis,
perpetual circle turns from death to birth, once more.
And as I looked into the morning sky,
drifting nimbus screening careening gulls,
I watched that door of seasonal hope open
to a land of warmer winds and gentle breezes.
No copyright issues – image free to use at https://commons.wikimedia.org/wiki/File:ChichenItzaEquinox.jpg
Image is of the monument Chichen Itza (Mexico) during the spring equinox and Kukulkan, the famous descent of the snake.
The Vernal/Spring Equinox is on Saturday 20th March 2021