Setting Sons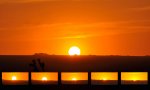 Wed, 14 Apr 2021
I have seen the spectral darkness,
quiescent corridors where emotions quietly dissipate.
I have been in the unlit, silent void,
a vale of tears where weather-worn walls weep.
I remember time passing like shifting sand,
those people close to my heart, not forgotten.
I have mourned and served my sentence,
my conscience the jailor of metaphors,
so many thoughts cast as allegory.
Distant memories merely keepsakes now,
forged in my soul, my dimly-lit essence.
I look out at the endless ebony of night,
at the limitless boundaries of eternity's horizon
and see you in moonlight's faint glow,
now fading ghosts, silhouettes roaming the ether.
You will both be with me always
in the first shards of daylight
to the penumbra cast by urban street lamps,
until my fated final bell tolls
and we are together once more,
where the coruscation of stars
flicker in the eyes of Gods.
Image free to use at https://commons.wikimedia.org/wiki/File:Anatomy_of_a_Sunset-2.jpg