In Lucid Dreams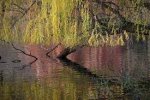 Thu, 22 Sep 2022
1 likes
From out of the woods river wends
its way along banks of tall grasses,
thistles share in this beauty with
wild flowers; while weeping willows
catch their reflection in flowing cool
water.
As reverie unfolds; I close my eyes
breathing in nature's alluring fragrance,
enjoying damp green beneath my feet;
each step taken grounds spirit with 
soothing calm.
Gazing down diversity this life
concealed in undergrowth resides;
sunlight rays...only occasionally
shimmering like glowing embrace
where warmth encourages energy.
But now at Autumn Equinox when
day and night are evenly matched,
trees mantled; leaves oscillate a
flexible dance; immersed in breezy
jaunt, for some a last waltz; before
they fall discovering that earthly realm;
regenerating life for new beginnings.
When peace is once more restored,
wet moss absorbs undulation of
river's whimsical ripples; where
displayed impressions seem to
separate as if not wishing the sail
of constraints, and I too will float
free in lucid dreams.
Pixabay free to use image.
Autumn Equinox begins under
a Harvest Moon, when day and night
are equal, on Friday 23rd September 2022.